Call

(905) 553-3155

or email for more information
We help find solutions to the management of your child's health and well-being.
Canada's New and Improved Food Guide
Back in January, Canada's food guide was updated. Previously we thought of the food guide as a rainbow or pyramid. It told us how much of each food group we were supposed to eat, but it was pretty confusing to try and turn that rainbow or pyramid into what our dinner plate should actually look like… until today!
Canada's new and improved food guide has done a great job at showing us how our plates should actually look. There are no more rainbows or pyramids, but rather an actual picture of how we can portion out our food on our plates, and make most meals work!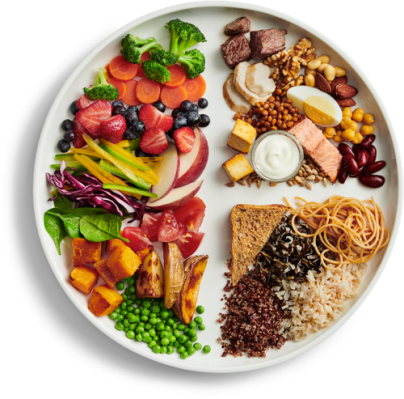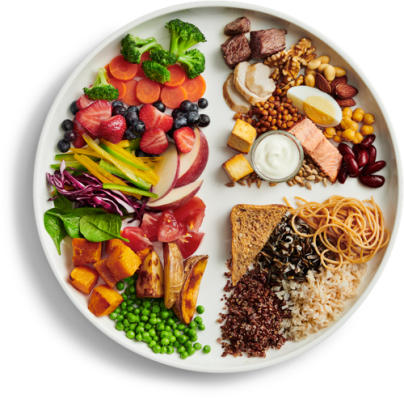 The picture shows the ¼ plate of protein, including many more plant based proteins, such as beans, tofu, and nuts. These are great alternatives to animal based proteins, often rich in iron and more sustainable to our environment. The ½ plate of vegetables and fruit focuses on bringing colour to our plate. The ¼ plate of starch shows whole grains, including whole wheat pasta, wild rice and quinoa. It's great to see different alternatives to the older pasta, breads and cereals. Lastly, it enforces choosing water as your "drink of choice". This is what we have been waiting for!
It also doesn't simply focus on food and portion sizes, but rather the environment and behaviours around the food that we eat, including:
Eating your meals with others. Enjoy the social/family time that meals can create!
Cook more often. Eating is not just about the end result. Learn about the foods you are eating and how to mix foods/spices together to create original dishes in your kitchen. There are actually some great recipes as part of the food guide. You are more likely to get excited about the food you eat, but also, these tend to be much healthier food options.
Be mindful of the food you eat. Start to notice when you feel full and when you feel hungry.
Enjoy your food. Try to include your traditions and culture in the foods that you eat.
It's 2019, thus it would be ignorant to think that the technology in our life is not affecting our health. Social media, commercials and product placement on TV/radio/internet all take on a role in food marketing. Sometimes you might not even realize when you are being advertised to. This type of advertising is designed to sway you to try food trends, buy certain foods or drinks, join a loyalty points program, etc. Be aware of these marketing strategies and read your food labels. Make informed choices with the foods you choose and see how they fit into the plate that the food guide has created.
There is still so much more to what Canada's Food Guide can do for you. Be sure to go check out all that there is to offer. Find out why we should choose lower sodium and lower sugar foods. See why processed foods aren't really our best option. Check out the great recipe options and enjoy reading through some of the tips they give regarding meal planning, healthy eating on a budget, healthy grocery shopping, food safety, etc.
I hope that you enjoy it as much as I did, and take an interest in being creative with your kids. Bring them along to the grocery store, try out a new vegetable, involve them in meal prep, and have fun! Cook together, try new foods together, and eat together.
TOP