Call

(905) 553-3155

or email for more information
We help find solutions to the management of your child's health and well-being.
Feeding Challenges Found in the Camp Setting
Growing up, camp was always the most important thing in my life. Some of my fondest childhood memories are from my 15 summers spent at camp (both day and overnight). Ironically, my interest in occupational therapy (OT) actually started when I was a counselor at camp. During a performance review, I was praised for my ability to "adapt the activities" to meet the needs of a hearing impaired camper. At the time it just seemed so obvious, and I didn't realize that I was doing anything special – why shouldn't this little girl fully participate in all that camp has to offer? The unit head proceeded to ask me if I knew what OT was (my 17 year-old self did not), recommended that I look into it, and the rest is history!
Therefore, when I was asked to present at the Ontario Camps Association "Campfire of Inclusion", my answer was obviously yes! The event was an opportunity for counselors and coordinators of any camp who accepts children with special needs, both day and overnight, to meet, network, and learn. I was one of three speakers that evening, and presented on feeding challenges found in the camp setting. I was blown away by how engaged and receptive the audience was. The devotion and compassion was palpable, and it made me realize that the children attending these camps are truly in excellent hands!
Although I work with feeding challenges all the time, coming up with an effective way to convey the information was a personal struggle. I had a short window to provide an overview of the difficulties that may come up, and offer recommendations. I had to remember that I wasn't speaking to fellow occupational therapists or clinicians. What I was most focused on was providing the group with concrete strategies that could easily be implemented in the camp setting. Given that an element of camp involves gaining new skills and obtaining awards, I decided to categorize the struggles and put a positive spin on it. Below is part of the handout that I prepared. My goal was that staff members could reference this sheet as necessary, and think about the awards when dealing with difficult eaters. Although this seems camp specific, these strategies can pretty well be applied in any setting. For more information about feeding challenges and how OT can assist, please see my previous blog post entitled Picking Apart Picky Eating.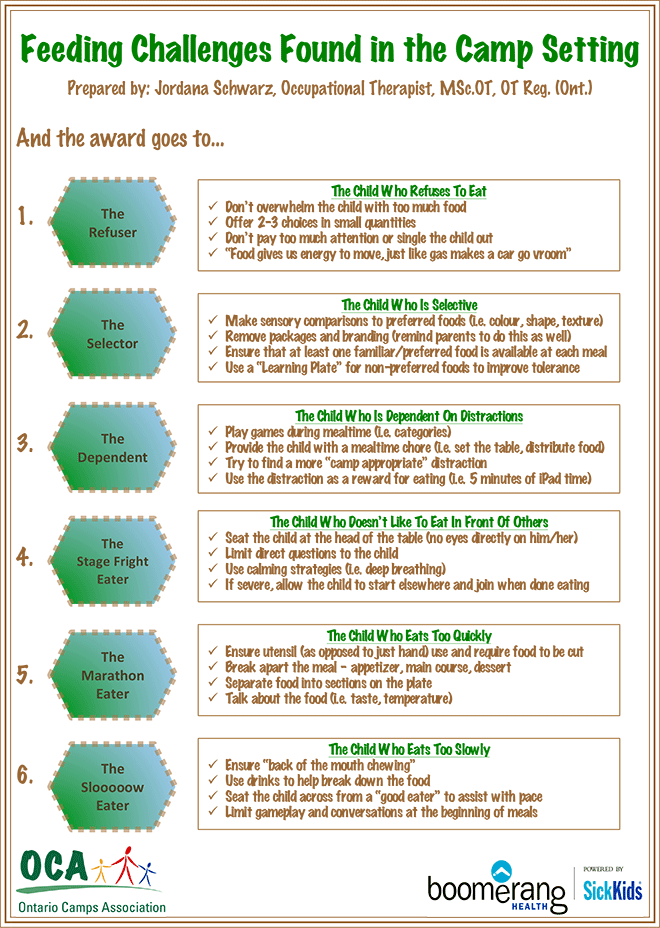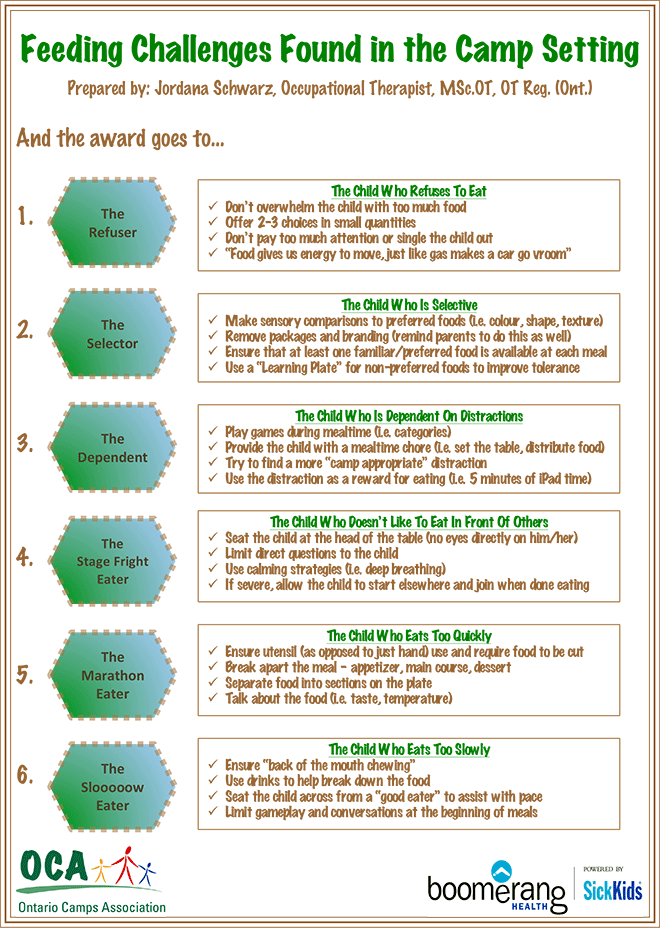 Camp is just 2 months away, and I'd give anything to be able to relive that time in my life. To anyone preparing for their summer at camp: enjoy and happy eating!
TOP